Start the year 2022 by choosing the one that cares for your Future!
At BEC, you can find various opportunities to explore, connect and learn! Dedicated to our long-standing legacy of academic excellence while upholding the love for learning, we are driven by our passion to guide and help you be prepared for the real world. If you are a student with great aspirations, with a persistent spirit to succeed, and got big dreams, then this where you can begin your Beacon story! We can help you propel your academic and professional future!
You can also unlimit yourself in your pursuit of academic excellence through our Scholarship Programs and Discount Offerings available for you and eligible students. Sign-up now in our Early Registration for the S.Y. 2022-2023!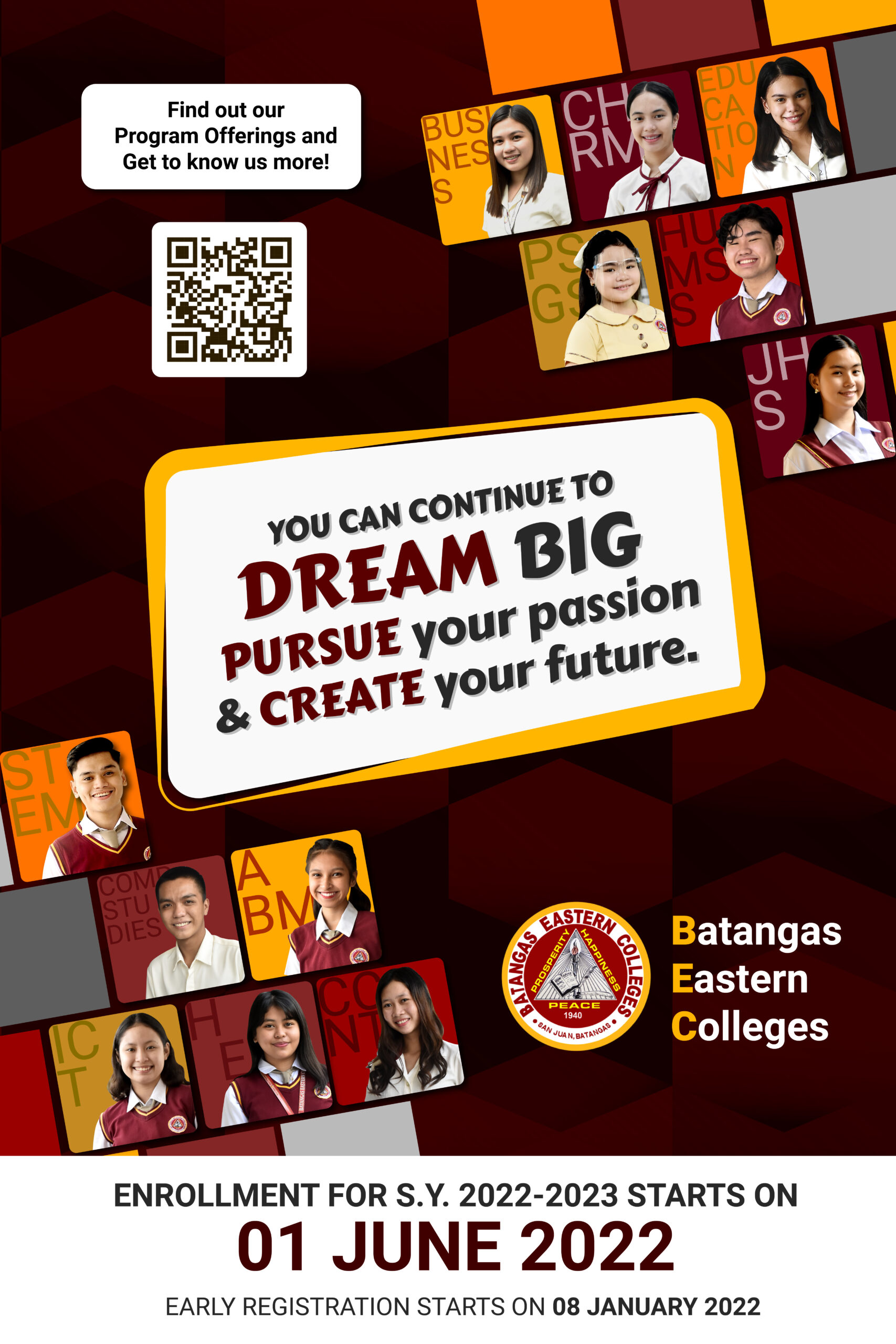 Please be advised that the EARLY REGISTRATION FOR S.Y. 2021-2022 officially OPENS on Saturday, 08 January 2022. This schedule applies for Online Registration ONLY.

For On-site Registration, you may visit the BEC Main Campus starting Monday, JANUARY 10, 2022. The Registrar's Office is open and available during Mondays until Fridays (8 AM – 4:30 PM). 
Here are the steps to follow to successfully complete the Admission Process. Please be guided accordingly for your preferred transaction – whether it's for "ON-SITE Registration" or "ONLINE Registration".
Registration Procedures and Requirements

Drop-by at the BEC Main Campus. We are open and in-campus transactions are available every Monday until Friday (8 AM – 5 PM).

Proceed to the Registrar's Office for assessment and submission of requirements to process On-site Registration. 

Kindly check the following requirements depending on your Grade/Year Level/Department you wish to be enrolled in:
For K12 DEPARTMENT, please submit the requirements listed below:
ADMISSION REQUIREMENTS for K12 ENROLLEES:
Photocopy of Report Card/School Form9(

SF9)

Photocopy of PSA/NSO Birth Certificate
For COLLEGE DEPARTMENT & TECHVOC CENTER, please submit the following requirements:
ADMISSION REQUIREMENTS for COLLEGE & TECHVOC ENROLLEES:
* For NEW STUDENTS:
Photocopy of Report Card/School Form9(SF9)

Photocopy of PSA/NSO Birth Certificate

Certificate of Good Moral Character
PSA/NSO Marriage Certificate(for married female)

* For TRANSFEREE STUDENTS:
Certification of Grades/Transcript of Records(TOR)

Photocopy of PSA/NSO Birth Certificate

Certificate of Good Moral Character

PSA/NSO Marriage Certificate(for married female)
IMPORTANT NOTE:
ESC Application Forms can be secured from the Office of the Registrar every weekdays at 8AM until 4: 30 PM.


For a hassle-free transaction, you may opt for an Online Registration. Please follow the steps below for a successful online registration.
Admission Forms and Registration links will be posted on the BEC Facebook page.
The Enrollee must fill out the Admission Form  provided through the following links. Please click on the link designated for your department:
The Enrollee must submit Admission Requirements (mentioned above) via email and addressed to registrar@bec.edu.ph
The Registrar's Office will notify the student if he/she is officially enrolled through a confirmation email, via text message and/or through a phone call.
The schedule for claiming your Student Registration Form will be advised by the Registrar's Office.
IMPORTANT NOTE:
For Admission inquiries, please connect with the Guidance Office through guidance@bec.edu.ph.
You may contact 0927-929-6948 or 0966-467-7974

For Enrollment concerns, please connect with the Registrar's Office through registrar@bec.edu.ph.
You may also contact 0920-261-0074 or 0907-014-8081