On January 12, 2020, at around 1:00 pm, what has been one of our country's most popular tourist destinations has begun showing signs of unrest causing disaster and tears to thousands of Batangueños. The occurrence has drastically transformed the breathtaking scenery of Taal into an ash-damaged landscape. In the days and weeks that followed, the people along with animals and plant life battled out for survival against the volcanic ash and emission of white steam-laden plumes accompanied by volcanic tremors.
There are about 300 volcanoes that can be found in the Philippines, but Taal Volcano ranks as the second most frequently erupting volcano. Despite it being the smallest active volcano in the world, it has recorded 34 identified historical eruptions; wherein the previous eruption dating back from 1977. So one could only wonder how it has been awoken from its' 43 years of quiet slumber.
An Overview of the Disaster
According to the Philippine Institute of Volcanology and Seismology (PHILVOCS), activity in the volcano was observed and characterized by sudden steam emission, the expulsion of plumes in one kilometer-high accompanied with volcanic tremors and increasing accumulation of ashfall threatening areas within the Taal volcano island, along with nearby areas. And like a ticking bomb, no one can predict when or if it will explode, then how lives can be rebuilt again.
"The speed of escalation was unexpected" said Mark Timbal, spokesperson for the National Disaster Risk Reduction and Management Council (NDRRMC).
Seismic activity was recorded at an earlier date of March 2019. However, the hazardous eruption was stated to be imminent last January 12, 2020, as the government raised Alert Level 3 over Taal Volcano island and at least the three nearby municipalities of the province of Batangas. Being just 70km south of Manila, the Ninoy Aquino International Airport was also forced to suspend their departing and arriving flights due to the severity of the spewed volcanic ashfall. The period of unrest continues to grow as for just a few hours after declaring the alert level, PHIVOCS raised the alert to level-4. Infrequent weak explosions carry on generating ash plumes of 500m to 1000 meters tall dispersing to southwest areas from the main crater; all the while producing magmatic intrusion beneath the Taal edifice – leading to further eruptive activity.
A total of 566 volcanic tremors were recorded since January 12 up to January 15, 2020, varying in ranges of magnitude 1.2 to 4.1 and with the level of intensity of I – V. This prompted the authorities to raise Alert Level 4 in effect as bigger eruption may take place within the next days.
With that in mind, the Batangas Provincial Disaster Risk Reduction and Management Office (PDRRMO) has now put almost 15 areas in lockdown status while more than 10 municipalities are in total lockdown. DOST-PHIVOLCS strongly reiterates the total evacuation of the residents in Taal Volcano Island and high-risk areas within the 14-km radius from Taal Main Crater. This specifically identifies the hazardous section along the Pansipit River Valley where fissuring has been observed and classified to be "no-go" zones.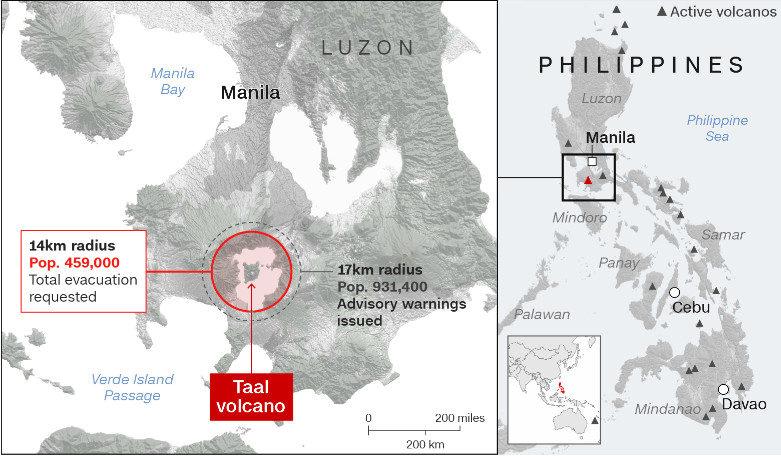 Photo Source: CNN.com
Houses near the island and Taal volcano's crater were seen buried in volcanic ash.  Heavy charcoal-like ash started raining down until knee-deep on towns until blanketing almost everything producing a bleak scene. The once-bustling markets were emptied, fields were untended, and the affected areas had no power or fresh water – giving off a lifeless vibe. The severity of the situation widens along with the growing need for basic necessities like food, water, clothes, and sleeping mats. However, more than these essentials, affected families particularly the children, and the seniors also had to face some emotional conflicts; anxiety and depression are just a few of them.
Figures continue to climb as prolonged volcanic earthquakes were felt and movement of magma were assessed, placing the areas within the 7-km radius from Taal's main crater to be still on impending danger and on lockdown. A few of these areas, aside from the residents living near the crater, include the barangays of Bilibinwang, Subic Ilaya, Banyaga in Agoncillo, barangays of Gulod, Buso-Buso, and Bugaan East in Laurel. Other than the Batangas province, Cavite, Quezon, and Laguna region were also affected thus relocating more families away from the danger zone.
During the 17th of February, the alert level may have been placed at level-2 however authorities continue to conduct further assessment in relation to proper displacement and safety of the affected families. Dozens of people may have perished during the eruption, livestock were left behind and many houses were destroyed however despite the government warnings, a few residents ventured back to see what has remained; and perhaps along with the hope to find anything they may salvage of their properties.
Rising from the Ashes
Everything appears to be gone in a blink. This prompted the local government together with concerned authorities to declare a state of calamity in Batangas Province along with other affected neighboring areas.
According to the Philippine News Agency (PNA), a web-based newswire service of the Philippine government, as of January 22, 2020, the number of affected families continues to climb. It was reported by the National Disaster Risk Reduction and Management Council (NDRRMC) this previous Wednesday, 71,717 families residing in Batangas, Cavite, Laguna, and Quezon had been displaced away from the hazardous 14-km zone. NDRRMC also cited that about 39,052 families or 148,987 individuals were staying and being sheltered in 483 evacuation centers.
On the 26th of January,2020, based on NDRRMC's 6 am situational report, the phreatic eruption of Taal volcano has caused a total of P3,215,788,882 for agricultural damage alone; while over P58 million of assistance has been provided to Taal victims.
The level of assistance towards the affected families reignited the "Bayanihan" spirit. Aside from the aid delivered by the National Government, many municipalities and other non-government organizations (together with several public figures and simple citizens), extended a helping hand to show that hope can be found amid the sorrow and despair of what may have transpired due to the Taal eruption.
Batangas Eastern Colleges also took part in providing shelter by showing how big a Beacon's heart is as we welcome 38 affected families or 109 individuals who were forced out to leave their homes at Cuenca and Lemery. They arrived on the 22nd of January, 2020 and were able to go back to their home as safety unfurls on the 27th of January,2020. For the days that BEC becomes a temporary home for every affected KaBatang, it has shown how one can endure any painful memory as long as a caring heart is ready to envelop them with warmth. From the fallen ashes, a stronger resolve emerged driven by the hope of creating new memories – finding the beauty of life (once again) while being guided by the grace of the Lord!