Batangas Eastern Colleges (BEC) acquires another significant achievement as it secures Government Recognition from the Commission on Higher Education (CHED) for the Bachelor of Science in Information Systems (BSIS) Program. The certificate for the said recognition has been attained and issued to our institution on the 23rd of May, 2023. 
This achievement for the College department, particularly for the College of Computer Studies, is a validation that our educational institution effectively fulfilled not only CHED's regulations but also the requirements outlined in Republic Act No. 7722, also known as the "Higher Education Act of 1994," and has demonstrated its ability to meet the rigorous standards set by the government for universities and other HEIs.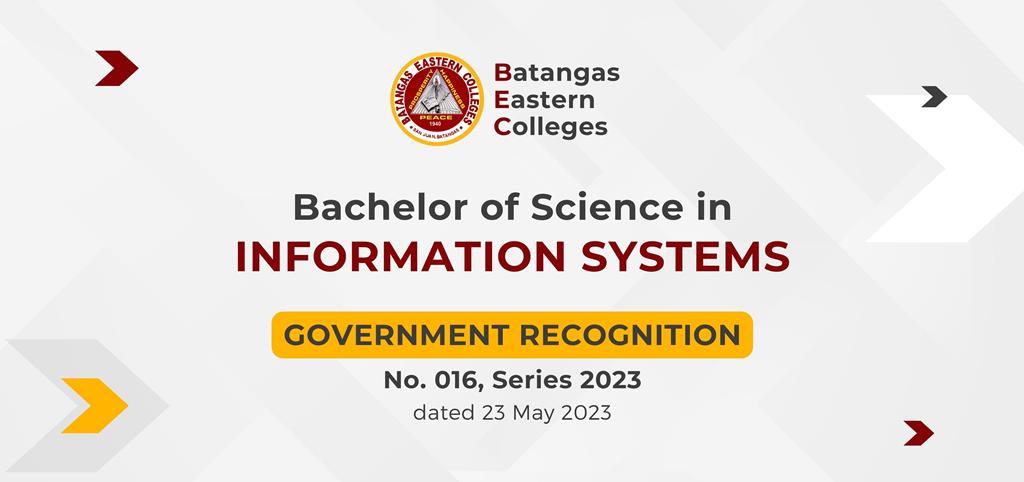 With this achievement, Batangas Eastern Colleges is poised to continue its upward trajectory, shaping the future of information systems education for all Beacon students. It also serves as a testament to BEC's unwavering dedication and commitment to providing academic excellence thereby offering assurance to every parent and student (whether prospective, new, transferee, or continuing students) that the BSIS program offered at BEC is of the highest quality and with industry-relevant curriculum. 
This recognition not only boosts BEC's academic reputation but also opens doors to enhanced opportunities for employability assuring employers that BEC's BSIS graduates (having received a quality education) as desirable candidates in the competitive job market. Furthermore, it empowers students to become highly skilled professionals in today's digital era.

Want to Know More about the BSIS Program?
If you are interested to know more about our Bachelor of Science in Information Systems (BSIS) Program, please connect with us through colcomputerstudies@bec.edu.ph or contact 0909-045-2040. You may also send us a message at our official Facebook page: www.facebook.com/OfficialBEABEC/
For enrollment inquiries or admission requirement concerns, you may reach out to our Registrar's Office through registrar@bec.edu.ph and contact 0920-261-0074 or 0907-014-8081.