Batangas Eastern Colleges once again offered a platform for its students to showcase their love for learning; wherein academic brilliance and innovation were celebrated!  From theory to practice, and from a mere curiosity into a series of concrete ideas, this year's College Research Colloquium provided a glimpse into the potential real-world applications that stemmed from Beacons' groundbreaking research projects. 
Organized by the College Department, the colloquium event took place at the BEC Gymnasium last July 21, 2023. With research being a cornerstone for academic development, the event not only aimed to foster excellence in both teaching and business disciplines but also to nurture a culture of inquiry and exploration, enabling students to contribute meaningfully to their respective fields.

Bridging Education and Business through Research
Anchored on the theme "Beaconing Innovation through Research and Instruction", the much-anticipated colloquium commenced as Beacon Presenters, Advisers, and Research Panelists convened to share research breakthroughs. With research papers spanning from cultural integration in teaching to financial literacy among young professionals, the event also showcased the collaborative efforts of each student researcher along with the guidance of their respective advisers dedicated to addressing pressing issues and enriching both fields.
The event held two (2) sessions to accommodate both colleges. Research presentations for the College of Business were done early in the day, starting 8:00 AM until 11:00 AM. Meanwhile, Presenters from the College of Teacher Education got to tackle their research presentations in the afternoon, from 1:00 PM until 5:00 PM.  The atmosphere was charged with anticipation and excitement as students and mentors eagerly awaited their turn to present their research projects that would showcase their hard work and dedication.
Meet the Presenters
Advisers at the College Research Colloquium 2023
Behind every successful student researcher are exceptional mentors, and for this colloquium, we were honored to have an esteemed group of advisers. These mentors played a pivotal role in guiding and shaping the research projects. A special acknowledgment goes to the Research Advisers featured below: 

The Board of Panelists
A remarkable research colloquium requires an equally remarkable panel of judges to evaluate the research presentations. The invited Board of Panelists consisted of distinguished individuals with expertise in both business and education. 
Board of Panelists for the College of Business:
Sir Euneil A. Castillo, LPT CGSP MBA (Chairman of the Board of Panelists)

Ma'am Pamela G. Virtusio (Member)

Ma'am Ara Jeane Herlin F. Lopez, MBA (Member)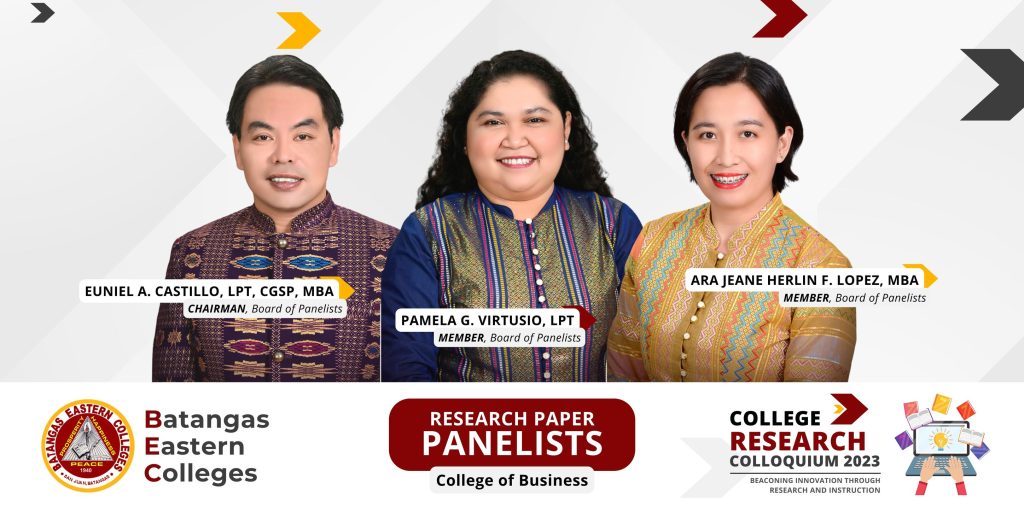 Board of Panelists for the College of Teacher Education:
Dr. Zenaida Delos Santos (Chairman of the Board)

Sir Wilmer Ambal, LPT (Member)

Ma'am Sharon D. Balmes, LPT, MAEd-Eng (Member)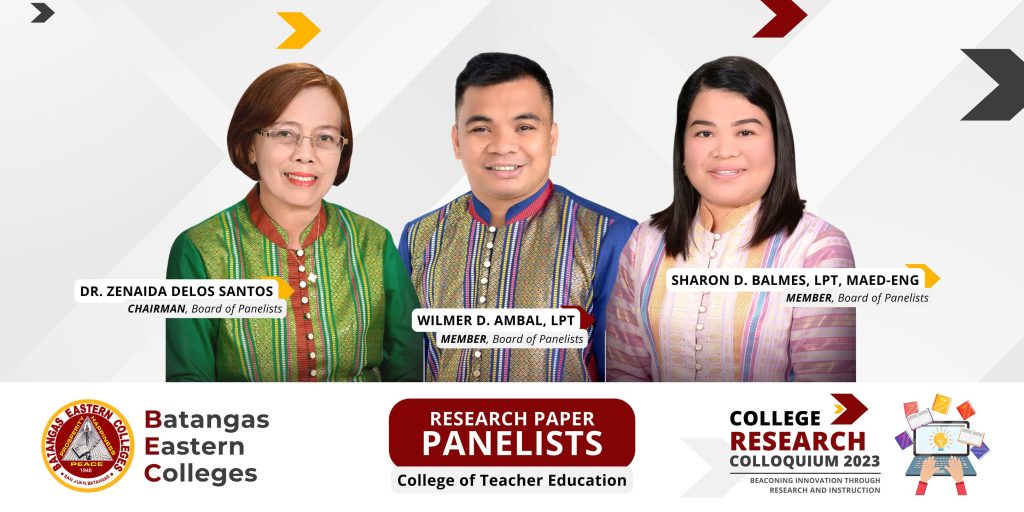 The College Research Colloquium Experience
Here's a visual recap of what has transpired at the event. 
Recognizing the Best Research Paper & Presenter
With highly significant findings and methodology, one research paper stood out among the rest and was recognized as the Best Research Paper of their respective colleges for this year's College Research Colloquium.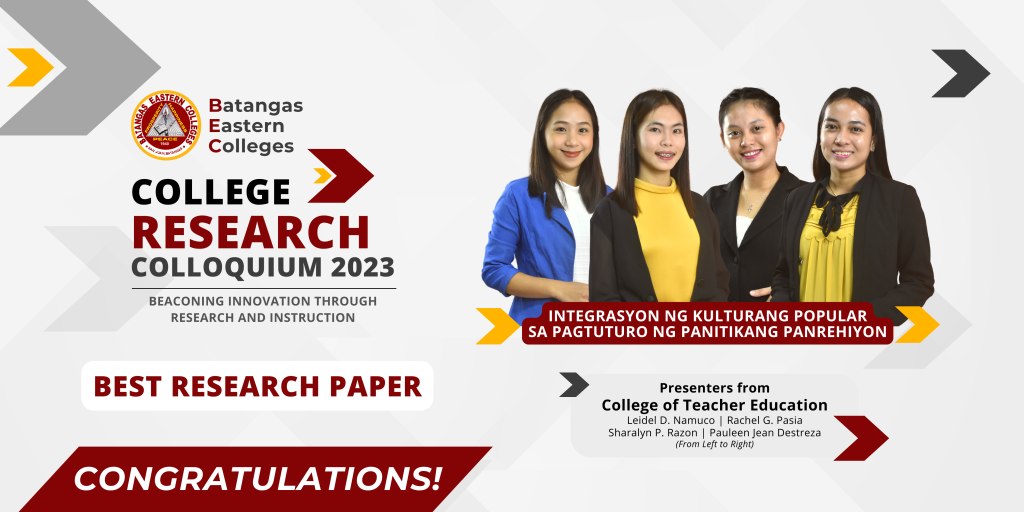 Best Research Paper for the College of Teacher Education
Research Paper Title: "Integrasyon ng Kulturang Popular sa Pagtuturo ng Panitikang Panrehiyon"
Presenters: Leidel D. Namuco, Rachel G. Pasia, Sharalyn P. Razon, Pauleen Jean Destreza.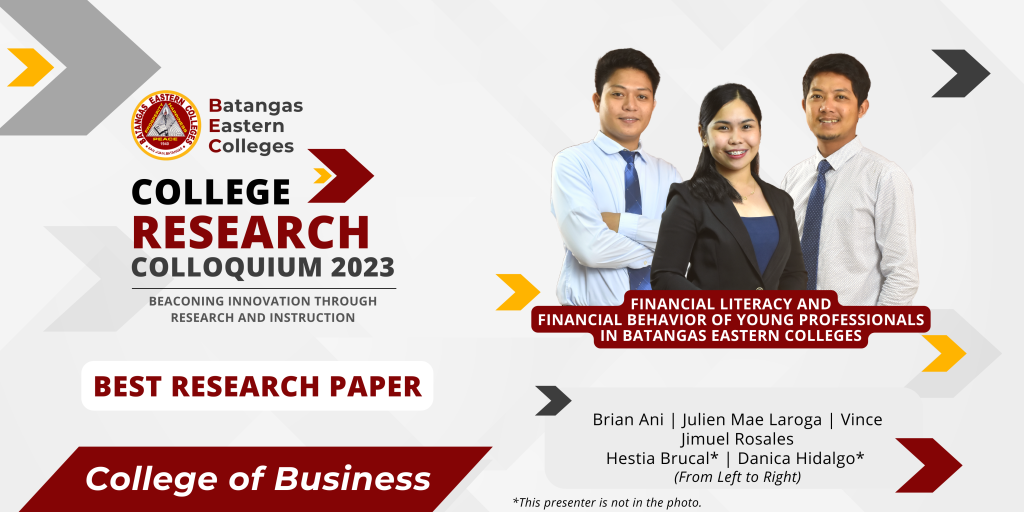 Best Research Paper for the College of Business
Research Paper Title: Financial Literacy and Financial Behavior of Young Professionals in Batangas Eastern Colleges
Presenters: Brian Ani, Julien Mae H. Laroga, Vince Jimuel Rosales, Hestia Brucal, Danica Hidalgo.
Furthermore, for each college, one Beacon researcher was recognized and awarded as the "Best Presenter" for this year's Research Colloquium.  Congratulations to the following Presenters!
The event not only highlighted the students' outstanding work but also served as a platform for nurturing a culture of inquiry and exploration within the college community.
As the event came to a close, we reflect on how the College Research Colloquium is contributing to the advancement of both fields. It is indeed a day filled with intellectual stimulation and groundbreaking research, where exceptional contributions of students from diverse academic backgrounds were celebrated and recognized; and later on a driving force in shaping a new generation of researchers and professionals of Education and Business.