Mainly focused on tackling Reading Comprehension and Critical Thinking Issues, the Beacon Civic Hackathon is an event that is programmed to hook you to think outside the box and hack a way out of quandaries (or dilemmas) by bringing digital solutions to life! 
In celebration of the BSIS Days, Batangas Eastern Colleges is excited to share with you a series of activities designed to offer a combination of learning and fun not only for BSIS students but for the entirety of the BEC community. This noteworthy occasion is surely something you wouldn't want to miss out on!
Hack-San Juan: Beacon Civic Hackathon 2023 is a 24-hour event filled with fun and intensive programming challenges ideating the "start-up" mode intended to stimulate creativity and innovation.

Aiming to focus exclusively on creating solutions for Reading Comprehension and Critical Thinking issues that beset San Juan, the Hackathon event is a great avenue that will be opening opportunities for the students and every participating team to learn, explore and develop potential IT breakthroughs while purposively becoming problem-solvers! This is not only to cater to Tech enthusiasts but also to evoke inspiration in the community. 
For more information about the event, including the guidelines, and mechanics of the Hackathon competition, we are encouraging everyone to please check out the official Beacon Civic Hackathon website: https://sites.google.com/bec.edu.ph/bec-civic-hackathon/home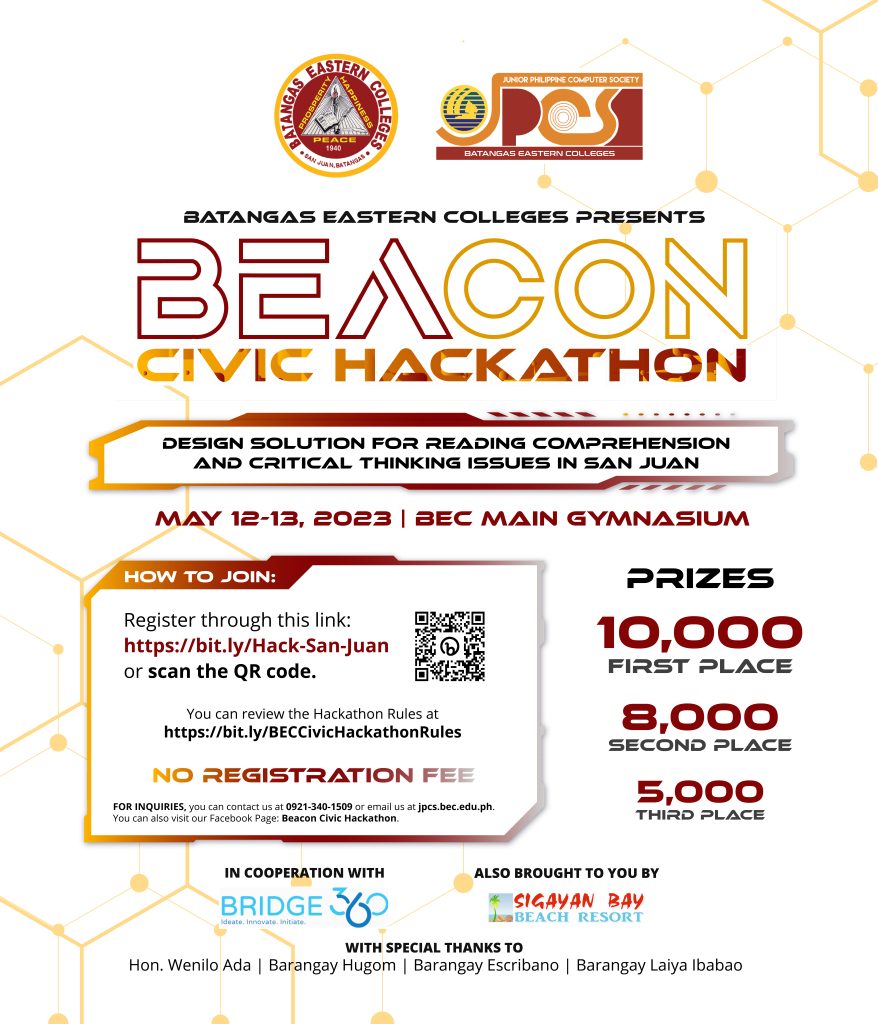 This competition is spearheaded by the College of Computer Studies, and in collaboration with the Information Technology Services Office (ITSO) and the Junior Philippine Computer Society (JPCS).  It has also been made possible through the assistance of different sponsors as follows: (1) SIGAYAN BAY Beach Resort, (2) Hon. Wenilo Ada (3) Barangay Hugom, (4) Barangay Escribano and (5) Barangay Laiya Ibabao.
Highlights of the 1st Day of Beacon Civic Hackathon
Two days, 14 teams, and a variety of innovative ideas – all these in one Hackathon event! 
To kick start the first day of the Hackathon event, registration was officially opened at 8 AM.  Forty individuals representing different colleges such as the College of Business, College of Teacher Education, and even Senior High School students registered and were joined by the majority of the students from the College of Computer Studies.  Fourteen (14) teams were formed and ready to compete for the coveted title as CHAMPION of the first Hackathon competition here at Batangas Eastern Colleges. 
Every participating team and the organizing committee came together for an orientation and they were warmly welcomed by Engr. Rejiel Gonzales, the Chief Technology Office of ITSO and head of the Hackathon organizing committee.  Her words sparked encouragement and appreciation as she commended everyone for having the courage to challenge their potential; at the same time, all were united in harnessing the power of technology. She closed her speech with a reminder to never forget the importance of teamwork, to enjoy this fulfilling experience while urging collaboration, and that the true measure of success is through the learnings that'll be acquired and the connections made in this event.  
It was followed by a seminar tackling Reading Comprehension and Critical Thinking Issues. The insightful talk was delivered by Professor Agerico M. De Villa, the school's President, prompting the participants to have an awakened mind on the concerned issues. Shortly, a break was provided for a friendly engagement and snacks for all participants as well as for the organizing committee. Later on, participants acquired additional knowledge as they enjoy another talk and discussion about Design Thinking Principles, design Tools for Prototyping, and Mockup Testings – all delivered by Engr. Gonzales. 
Meet the Mentors
Distinguished professionals were invited to be official mentors and were appointed to each participating team. And to share with you a brief information of our esteemed guests who shall also serve as guiding light and support for the event, here are some snippets of their profiles:
Highlights of the 2nd Day of Beacon Civic Hackathon

On the next day, May 13, 2023, all participating teams together with their mentors continued to work collaboratively while brainstorming ideas to find innovative solutions for their appointed problems – identifying the answers to the event's targetted issues.
With their energy renewed, participants are even more determined to ply their skills as they make use of the chance to "hack". Laptops and computers are once again on fire as snacks and beverages are offered for the next remaining hours before the much-awaited Project Pitching of each team.
Awarding
Present on the 2nd day of the competition were Dr. Lorelie Galit, the Vice President for Academic Affairs, Dr. Renalyn Almario, Dean of the Colleges, and Ms. Leilani U. Gualberto, BSIS Program Head. It was also an honor and with greatest appreciation to Mr. Loupel Gueta, Education Supervisor of the Commission on Higher Education (CHED), Mr. Jose Carmelino V. Quizon, the Chairman of the Board of Directors (BEC), for gracing the event with their presence.
Among the participating teams, here are the TOP 5 Finalists:
Ranked 1: Group 10 – Matthew's Adventures
Ranked 2: Group 6 – AlikaBook
Ranked 3: Group 14 – READ-y! Set! Go!
Ranked 4: Group 1 – Pilapse
Ranked 5:  Group 2 – READ ME
The team that garnered the most votes and received the "People's Choice Award" were Group 10 – Matthew's Adventures comprised of the following students: Ms. Bhea Bianca Saballa, Mr. Gerald Bernal, and Mr. Jomar Comia.
The first-ever Hackathon competition at BEC was undoubtedly a tough and challenging event but at the same time a great avenue for a collaborative learning experience for everyone.  At the end of the day, it is still a competition, and the 3 teams hailed and recognized as the top winners are the following:
CHAMPION: Pilapse
2nd Placer: ReadME
3rd Placer: READ-Y! SET! GO!
Stay tuned for more photos to be posted here.  Thank you!