For all incoming Grade 11 Beacon students, get a chance to become a SHS Voucher Recipient starting this Academic Year of 2021-2022.

As one of the participating schools accredited to offer the SHS Voucher Program, Batangas Eastern Colleges can be the avenue for Senior High School Grade 11 Students in pursuing their dreams. With the Covid-19 pandemic, it is undoubtedly a challenge particularly in terms of financial matters for concerned parents and students.  Thus, becoming a SHS Voucher Program Beneficiary may provide financial assistance to help you continue your educational journey!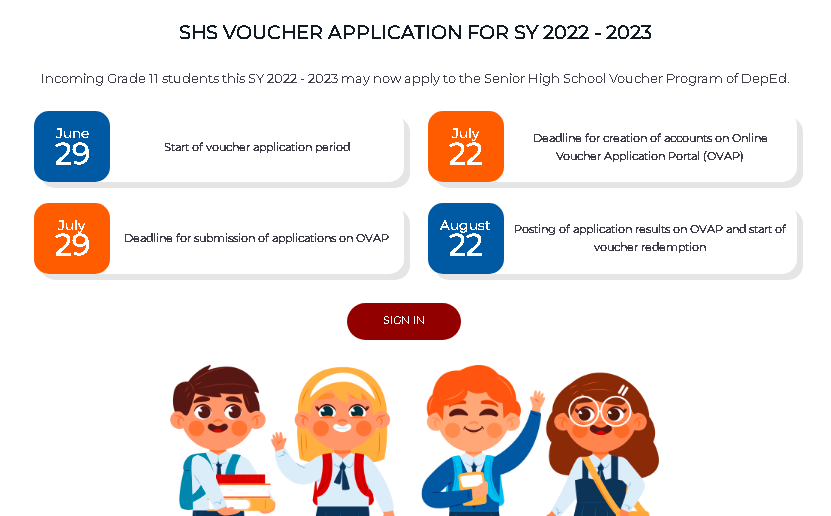 For more instructions of SHS Voucher Program Application please watch this informative video from PEAC OVAP here.
The Online Voucher Application Portal will be open
on June 29 12:01 PM until July 22, 2022 23:59 PM.

What is the SHS Voucher Program? 
This is a partnership program by the Department of Education and administered by the PEAC, Private Education Assistance Committee intended to provide financial assistance to young learners in Senior High School Level.  Slot allocations are provided to ESC-participating schools (comprised of public schools and private educational institutions in the Philippines).  In the form of SHS Vouchers,  students can avail tuition subsidies amounting Php 14, 000 up to Php 17, 500 applicable for Grade 10 Completers from either private and public school.  The recipients of the said voucher or SHS tuition subsidy will be provided with the same amount over the two-year term in the Senior High School Level (starting from Grade 11 to Grade 12).

Who Are Eligible and How to Apply for SHS Voucher Program?
The implementation of the financial assistance for Senior High School students particularly starting at the Grade 11 SHS Level, shall be coursed through certain eligibility requirements as administered by PEAC (Private Education Assistance Committee). One of the important fact relating to the SHS Voucher Application Procedure is that the applications are recommended to be submitted to Private Education Assistance Committee National Secretariat (PEAC NS) via Online Voucher Application Portal (OVAP) for online application.
If you wish to become one of the beneficiaries of the SHS Voucher Program, here are the things you need to know when it comes to SHS Voucher Application Procedure: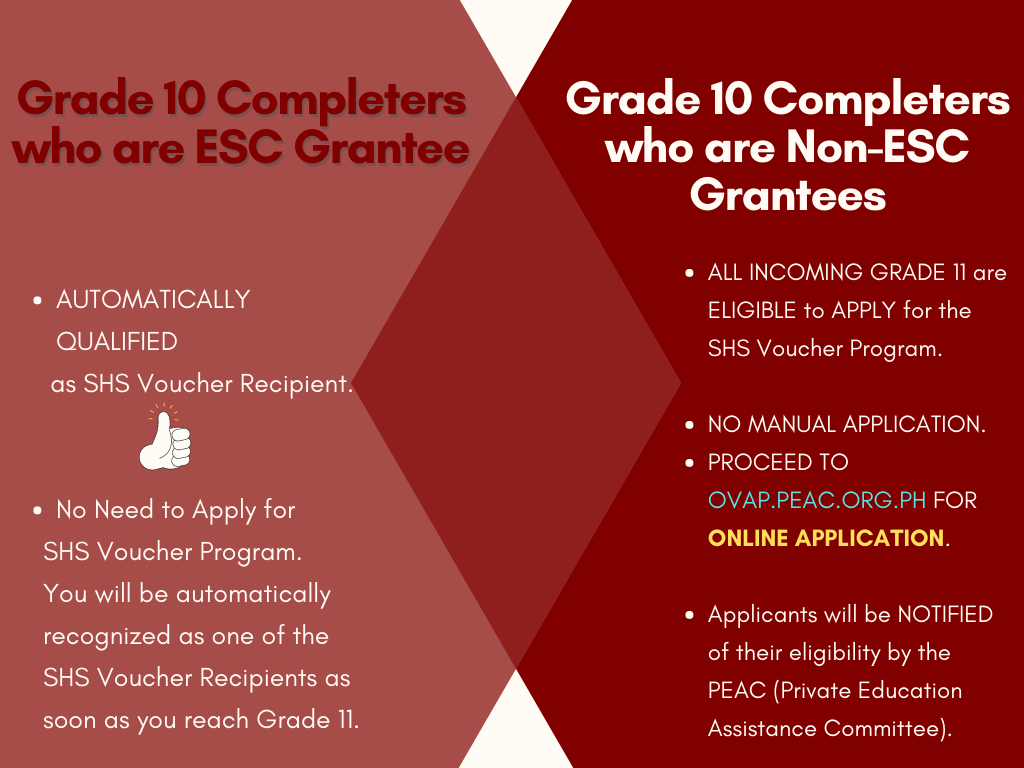 For Grade 10 Completers who are ESC Grantee: 
*This applies to old/continuing Beacon students and NOT to Transfer Students.
(1) You are AUTOMATICALLY QUALIFIED to be SHS Voucher Recipient. 
(2) NO NEED to APPLY as you are automatically recognized to receive SHS Voucher upon your enrollment as incoming Grade 11 here at Batangas Eastern Colleges (BEC). 

For Grade 10 Completers who are NOT ESC Grantees:
(1) Regardless of whether you are a public or private Grade 10 Completer and NOT ESC Grantee, then you are eligible to apply for the SHS Voucher Program. 
(2) To apply, please proceed to ovap.peac.org.ph for online application. No manual application will be accepted. 
(3) Applicants will be notified of their eligibility by the PEAC (Private Education Assistance Committee) .

For inquiries and more information, please see contact the following contact details:
Application Process and Guidelines – Send an email to shsvp.application@peac.org.ph
Technical Concerns – ovap.concerns@peac.org.ph or contact 0917-702-4213
To know more about the available Discounts Offerings & Financial Assistance you can avail, you may connect with the Finance Office through the following contact details: 
For inquiries about the Scholarship Programs you may avail, please connect with the Guidance Office through the following contact details: