If you are an incoming Grade 7 or 1st Year College student, seize this opportunity to become one of the esteemed BEC Scholars! The application period starts on July 8, and ends on July 14, 2023. 
To register and apply for the MSVYHFI Scholarship, visit the official application portal by clicking on the following link: https://bit.ly/BECscholarshipprogram. Please make sure to complete the application form and submit all the necessary documents before the deadline.
The MSVYHFI Scholarship Program offers a merit scholarship, granting you Beacons the chance to pursue your dreams and acquire quality education here at Batangas Eastern Colleges. Don't miss out on this opportunity to receive and have affordable access to the BEC learning experience this school year 2023-2024!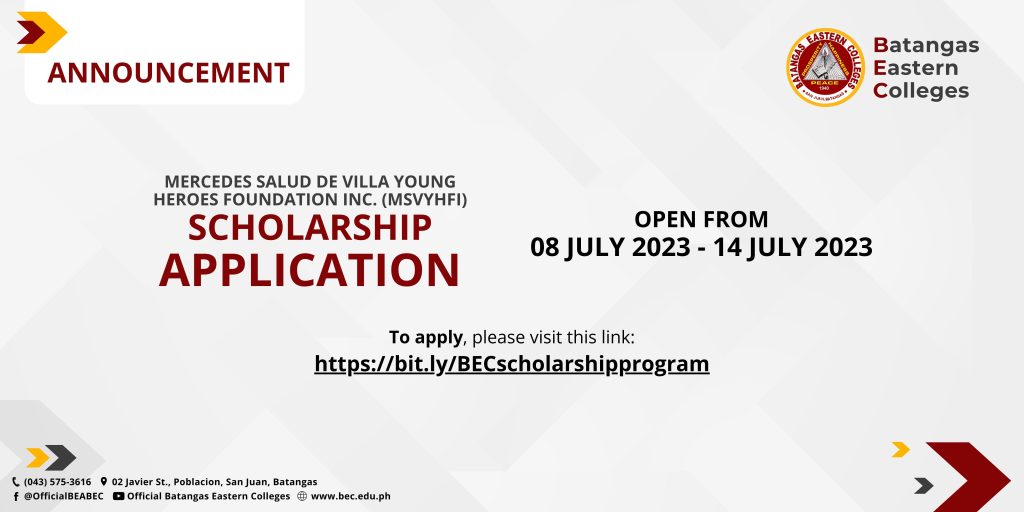 For any inquiries or assistance regarding the scholarship application process, please reach out to our dedicated Guidance Office. You can connect with them via email at guidance@bec.edu.ph or contact them directly at 0938-9488-089. They will be more than happy to assist you throughout the application process.
This scholarship program is a testament to Batangas Eastern Colleges' commitment to providing education opportunities and empowering young individuals to become future leaders. Join the BEC Scholars community and be part of the MSVYHFI Beacon Scholars!
Don't let this chance slip away! Apply today and embark on a remarkable educational journey with the MSVYHFI Scholarship Program.