Paying for your Tuition Fee and other school-related fees are made easier via ONLINE PAYMENT TRANSACTION!
If you are looking for a hassle-free payment transaction,  Batangas Eastern Colleges  made it EASY to protect Beacon students and the community against the ongoing COVID-19 pandemic. To facilitate the processing of your requests and other online transactions, we've made it more convenient by introducing new Bank options!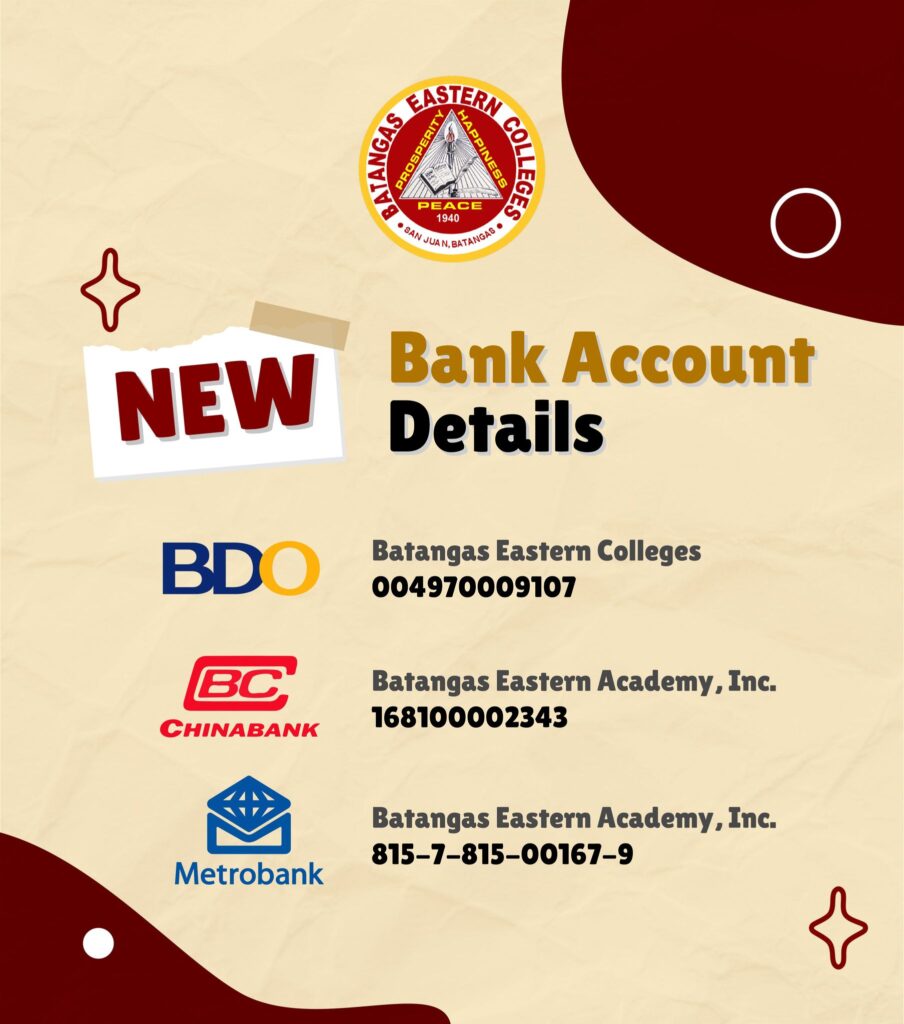 How to Process ONLINE Payment Transactions
If you got questions on how to process online transactions,  here's how you can settle fees and other school-related fees via
ONLINE PAYMENT TRANSACTION
. Simply follow these 4 easy steps!
STEP 1: 

Open any Mobile Banking* or E-Wallet App (Gcash app)** installed on your phone then click the "BANK TRANSFER" option in the home screen. Then, select "Metropolitan Bank & Trust Company" or "MetroBank" from the list.

STEP 2:
Enter the amount and input the following details depending on your preferred Bank Account:

BDO (BANCO DE ORO)

ACCOUNT NAME:   Batangas Eastern Colleges
ACCOUNT NO:     004970009107
CHINA BANK

ACCOUNT NAME: Batangas Eastern Academy Inc.
ACCOUNT NO: 168100002343
METROBANK
ACCOUNT NAME: Batangas Eastern Academy Inc.
ACCOUNT NO: 815-7-815-00167-9
Review and verify the transaction details then click "SEND MONEY"

STEP 3:

Make sure you have completed the Online Payment Transaction. DOWNLOAD or TAKE A SCREENSHOT of the transaction receipt.
STEP 4:

Send the receipt at finance@bec.edu.ph with the following details:
Subject:    PAYMENT RECEIPT_[Month/Tuition Fee]
Message:
NAME OF STUDENT

GRADE & SECTION / YEAR & COURSE

IMPORTANT NOTE:

A confirmation will be received through the sender's email account.
The payment receipt will be sent to the student's MyBEC Account or to your registered email address.
*Mobile Banking Apps can be downloaded from Play Store or App Store (e.g. Metrobank Mobile Banking, MetroBank Direct, BDO Online App, Chinabank Mobile App)
**Examples of E-Wallet Apps are G-Cash and PayMaya.
For inquiries about Fees, Discount Offerings, refund and other school-related fees, you may connect with the Finance Office through email: finance@bec.edu.ph  or contact us at 0995-449-0662.