Congratulations to our team of Senior High School Students who've bagged several awards upon competing at the LPU-IHSC last January 25, 2022.
Batangas Eastern Colleges was invited to join the Inter-High School Competition organized by the Lyceum of the Philippines-Laguna in celebration of their 21st Foundation Week. Our dear Beacons take on the challenge with readiness and excellent display of entrepreneurial skills, passion and creativity.
Among the series of competitions was the Virtual Shark Tank Business Idea Pitching Competition where our dear SHS students presented their business design in captivating, succinct manner. In lined with current innovations in business modelling, the competition was inspired by the Shark Tank-style of pitching conceived to connect, educate, and encourage every participant to showcase their business ideas as well as inspire students to realize their entrepreneurial potential.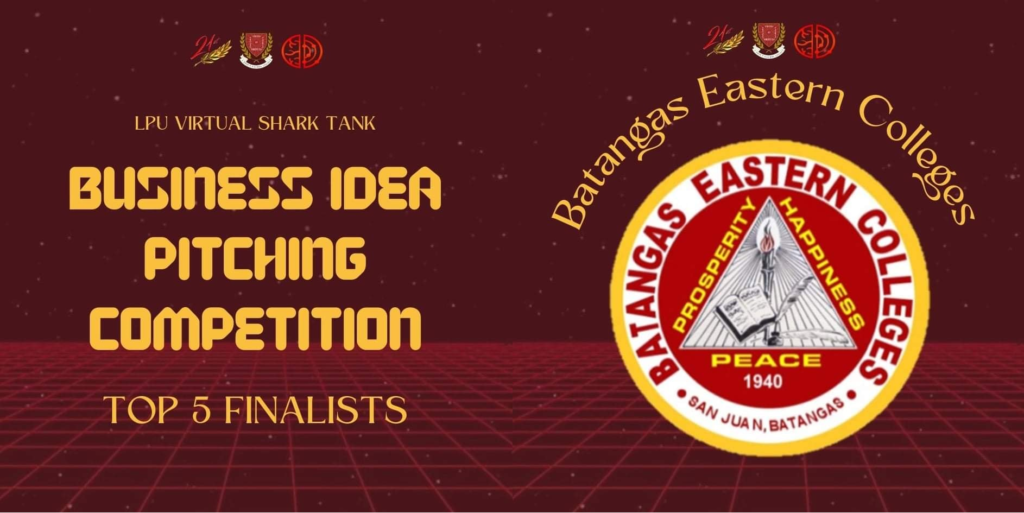 Meanwhile, the Sandbox Competition: LPU-Laguna Innovation Challenge puts a spotlight on the game-changing, out-of-the-box ideas. Our passionate SHS students boldly showcased their design idea thus forecasting the emerging technology solutions to current issues of the society based on the Sustainable Development Goals (SDGs).
Furthermore, they've demonstrated their flair and attendant management skills in the Flight Attendant Showmanship. Here is their performance video:
Out of 20 participating schools in the said Inter-High Competition, we've made it in 3 out of 5 categories. Thus, Batangas Eastern Colleges would like to express our congratulatory cheers to the following:
LPU Virtual Shark Tank "Business Idea Pitching Competition"
TOP 5 Finalist : "Almighty Hydrosolar"
Elwin Jen Barredo (12 – STEM, Apollo)
Danica Mae T. Canosa (12 – ABM, David McClelland)
Nicholas Miguel Limbo (12 – HUMSS, Karl Marx)
Coaches:
Sir Wilmer D. Ambal
Sir Roland T. Timbal
Sandbox: LPU-Laguna Innovation Challenge
BRONZE Award
Jim Mariel Y. Castillo (12 – STEM, Apollo)
Mark Angelo R. Baricante (12 – STEM, Apollo)
Gian Ezekiel S. Gersaniba (12 – STEM, Euclid)
Coaches:
Sir Wilmer D. Ambal
Sir Princeton Jordan R. Sagaral
Flight Attendant Showmanship
BRONZE Award
Kyla Nicole E. Muyargas (12 – ABM, David McClelland)
Posiedon B. Sevilla (12 – ABM, David McClelland)
Trainor:
Ma'am Hiwaga Virtusio

Coach:
Ma'am Minerva S. Magisa
Photo Essay Contest
Francine Nicole B. Landicho (12 – STEM, Apollo)
Ivan Yuri S. Quijano (12 – STEM, Apollo)

Coach:
Ma'am Minerva S. Magisa
Canvas Art Making Contest
Frinces Claire S. Gabinete (12 – HE, Careme)

Coach:
Ma'am Perla B. Añonuevo

OVERALL HEAD COACH: Ma'am Minerva S. Magisa
You have done remarkably well, and Batangas Eastern Colleges is truly proud of your achievement. We would also like to recognize the collaborative efforts of their mentors, coaches, their SHS teachers, and the support of their parents and classmates. Continue to shine Beacons!
Image sources: LPU-Laguna CBA Department Facebook page, and Mark Lucas Facebook account.